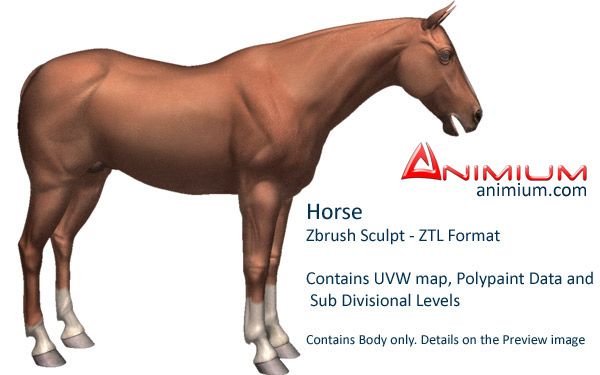 Horse 3d model – Zbrush Sculpt
Horse 3d model - Zbrush Sculpt
High detailed, high resolution 3d model of Horse, sculpted and painted in Zbrush.
Horse 3d model - Zbrush Sculpt features
Quad faced, UVW mapped, polygonal sub-divisional mesh.
Contains Polypaint data and 5 sub-divisional levels.
Realistic model, does not include eyes and mouth parts.
Included 3d formats – Zbrush ZTL.  Perfect for any kind of visualization, illustration and animation.
Polygons: 14,666 ( SubD level 1 )
Vertices: 14,690
You need Gold level Membership to Download this model.