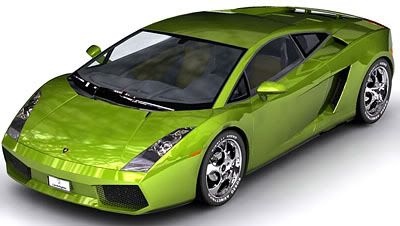 Lamborghini Gallardo
Lamborghini Gallardo 3d model in .max and .obj - 3MB
Applications : 3dsmax
Renderer : finalrender
This model was built over the lowpoly model posted below. The high resolution blueprint that I used as a reference to built this model is also provided with this download. For rendering I used finalrender. Used Bitmap HDR for environment, and another HDRI image for GI.
Bitmap HDR is a feature that comes with finalrender, it allows you to control the exposure amount. HDRI image is the only light source in the image, with exposure value of .7 and the HDR image for envirnment is -0.4.
No postwork is done with the image.